What To Serve With Rotisserie Chicken: 16 Awesome Sides
These ideas for what to serve with rotisserie chicken will make for a feast that wouldn't be out of place at your favourite restaurant!
Though it can be really straightforward to prepare, a rotisserie chicken dinner always manages to feel like a real treat.
Whether you've gone to the effort of firing up the barbecue and making your own at home, or you've picked up a shop bought version for those evenings when you just don't have the time for any complicated cooking, a good variety of side dishes can really make your meal.
From light and healthy salads to rich and creamy potato based dishes, here are sixteen accompaniments to add to your meal plan for what to serve with rotisserie chicken…
1. Spicy rice
If you're a fan of Nando's, you'll probably already be familiar with just how delicious spicy rice can be when served with grilled chicken!
Chop a red onion and a red pepper, and gently fry in a saucepan for around 3 minutes, or until softened. Add chilli flakes, turmeric, and smoked paprika, and cook for a further 2 minutes. Next, add rice, chicken stock, and seasoning, and cook whilst covered with a lid for 8 minutes or until the rice is almost cooked.
Finally, add some frozen peas, recover with the lid, and cook for a further 2 minutes or until everything is cooked to your liking.
Whenever I make this recipe, I like to make a few extra servings so there'll be leftovers for lunch the next day! It's great with chicken, of course, but it also makes a really satisfying lunchbox choice without any extra additions.
2. Homemade chips
Chicken and chips… Surely there is no greater combination!
When it comes to what to serve with rotisserie chicken, I like to make my own homemade chips from scratch, adding plenty of salt and vinegar.
It's easier than you might think to make perfect chips at home… Think golden and crispy on the outside, and light and fluffy on the inside.
Check out my homemade chunky chips recipe, and be sure to let me know what you think!
3. Apple coleslaw
Imagine crunchy cabbage and tangy apple, lightly coated in a mayonnaise and mustard based creamy dressing.
This apple coleslaw recipe is a beautiful side dish that always reminds me of the summer, and long lunches enjoyed outside on a sunny terrace with friends and a good glass of dry white wine.
3. Jacket potatoes
Jacket potatoes are a super versatile side that will go with practically everything, and they're a tasty choice for what to serve with rotisserie chicken.
If you're making salads and other dishes for your friends and family to choose from, you might want to keep things simple with baked potatoes garnished with a little butter.
Alternatively, load up your jackets with cheese, chopped bacon, soured cream, and chopped spring onion. If you're cooking for a special occasion, you could even create your own jacket potato station and let your guests help themselves to a little bit of whatever they fancy!
4. Greek salad
Chicken salad is a family friendly choice for a fuss fresh midweek meal, and it's taken to the next level when you serve up rotisserie roasted chicken with a delicious Greek salad.
Choose your favourite basics such as lettuce, cucumber, and juicy tomatoes, and add cubes of feta cheese, olives, a sprinkling of oregano, and a dressing of good quality extra virgin olive oil.
5. Oxo roast potatoes
A portion of Oxo roast potatoes can be added to your rotisserie chicken to make it into a hearty, super satisfying meal that would be perfect served on a Sunday afternoon with a jug of gravy and your favourite vegetables.
These potatoes can be cooked in a traditional oven or an air fryer, and the most important step is parboiling them in stock before roughing them up in a colander, to ensure you get those lovely crispy bits on the outside.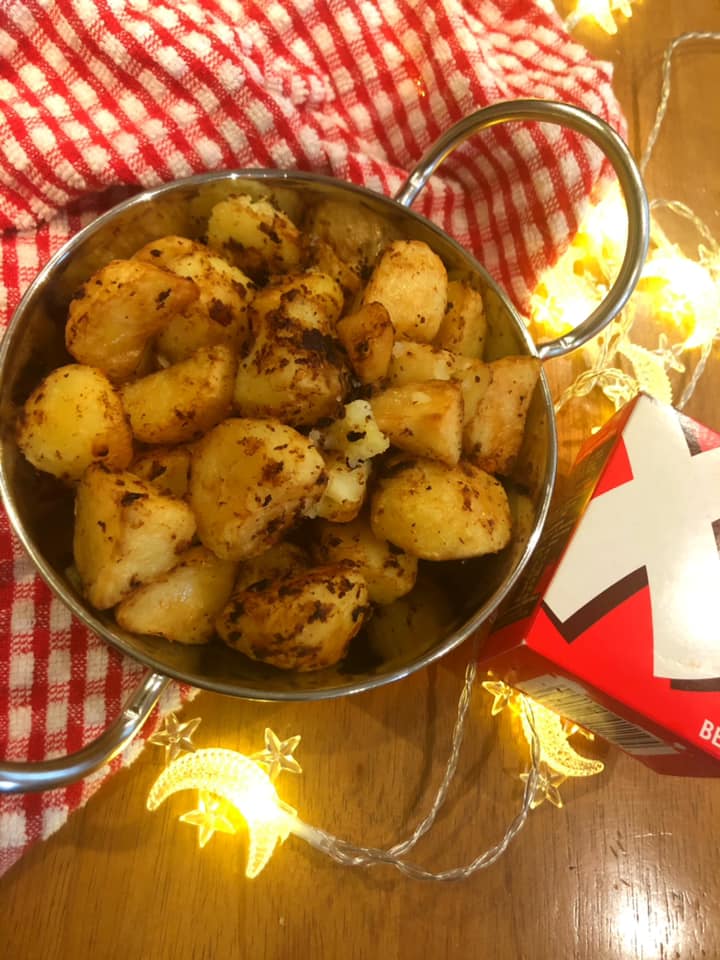 6. Quinoa, watermelon, & spinach salad
This quinoa, watermelon, and spinach salad has everything you could want from a side dish for rotisserie chicken… It's nutritious, zesty, filling, and it even includes 3 of your 5 a day per serving!
This is the kind of side that you'll want to select if you're having friends over for a light and sophisticated supper, and you want to serve something that's easy to prepare but also worthy of a place at a casual dinner party.
7. Mediterranean pasta salad
The beauty of a Mediterranean pasta salad is that there are no rules. You can chuck in a combination of your favourite veggies or whatever you might have to hand that needs using up, and create a colourful, tasty side dish that's perfect alongside your chicken.
Here are some general guidelines to follow to get you inspired…
Cook your preferred pasta shapes according to packet instructions, drain, and set aside
Chop up cherry tomatoes, cucumber, spinach, olives, and red peppers
Mix everything together and dress with extra virgin olive oil, vinaigrette, or a lemon based dressing
Add shavings of parmesan cheese, or cubes of feta
8. Feta and peach couscous
This feta and peach couscous salad requires just four ingredients, and it offers a real taste of summer.
You can have it on the table in 15 minutes, so it's a good choice for those busy evenings when you're short on time. Just add a chunk of crusty bread, and you've got a meal that's worthy of a hip bistro.
9. Potato salad with curried mayo
Potato salad is a fantastic option for what to serve with rotisserie chicken, and it can be prepared the day before and served cold if you prefer, making it perfect for a buffet style gathering.
This potato salad with curried mayo involves making a silky, creamy dressing with curry paste, low fat natural yoghurt, and mayonnaise, and it's a lovely side dish to have in your kitchen repertoire.
10. Tomato soup
My slimming friendly tomato soup recipe tastes just like Heinz, and it makes for a lovely light evening meal when served with rotisserie chicken.
Make life easier by preparing a batch, and enjoying it for lunch the next day with a shredded chicken and cheese toasted sandwich.
11. Antipasto
An antipasto platter is a good choice for what to eat with rotisserie chicken when you want something fresh and vibrant that can be prepared in advance.
Make up a platter featuring your favourite cold cuts of meat, cheeses, salads, and pickles. You can use up leftovers that you might have in your fridge, yet still serve up an impressive meal that seems well planned and executed!
Add some fresh bread or crunchy breadsticks, plus some olive oil and balsamic vinegar for dipping.
12. Green veggie risotto
Shredded rotisserie chicken pairs so well with a creamy risotto.
Choose an option with plenty of seasonal green veggies like peas, mangetout, courgette, and broccoli, and sprinkle with your favourite hard Italian cheese.
13. Fresh pineapple salsa
If you love bold flavours, you'll adore a pineapple salsa.
Just add chopped red chilli, red onion, coriander, and lime juice, and you've got a juicy, delectable side salsa in hardly any time at all.
You can even used tinned pineapple if you happen to have some in your pantry and you don't have time to go grocery shopping!
14. Homemade guacamole
There's a whole world of difference between the ready prepared guacamoles that you'll pick up at the supermarket, and what you can make at home with just a handful of fresh ingredients and five minutes of your time.
There are hundreds of different recipes out there for you to choose from, but you needn't make things any more complicated than they need to be.
Peel, pit, and mash some ripe avocados, and add diced tomatoes, red onion, lime juice, red chilli, and salt. Serve straightaway to avoid it going brown.
15. Sweetcorn fritters
It's amazing what you can do with a couple of tins of sweetcorn!
One of my go-to favourites are sweetcorn fritters. You can sneak in some extra veggies like carrot and courgette if you like, making them a good choice if you're serving fussy children and want to ensure they're getting a varied diet with plenty of goodness.
These can be frozen for extra convenience, so you might want to make some extra to have on hand for snacks and lunchboxes.
16. Dauphinoise potatoes
Dauphinoise potatoes is the kind of side dish that you'll want to serve with rotisserie chicken when you're in the mood for extra indulgence, and you really want to push the boat out!
They're created by thinly slicing potatoes and onions and covering with lashings of double cream and cheese, and they're definitely worthy of a special occasion or a meal where you want to impress.
What do you like to serve with rotisserie chicken?
A roasted chicken is such a special main course, and you can make it into whatever you want to be when you carefully select your favourite sides.
You can keep it light with lots of fresh veggies and zesty salads, or make it into the kind of meal that you serve on rainy Sunday afternoons when everyone fancies some indulgence.
If you have your own favourite recipes that you like to prepare, leave a comment below and tell me all about them!